We believe our physical and emotional health is directly tied to what we eat. Plan to Eat was born from our desire to eat real food — great food — prepared at home, together as a family. Our hope is that Plan to Eat will be a tool to help you prepare delicious, wholesome food that nourishes both body and soul.
So in love with my @PlanToEat subscription. Have always been a meal planner, but not like this. Spending less, saving more, wasting nothing.

4 of 180
I have been using your site for a year now and I can't imagine life without it now! You have not only made my meal planning a breeze BUT the grocery list feature has helped save so much money over this past year! I no longer wander aimlessly through the store guessing at what I need and crossing my fingers that I didn't forget to write something on my list.

5 of 180
So far I love it! I plan to sign my son up as well, as he does all the cooking for his family. Easy to use; love the add a recipe feature. I have been cooking more and loving it. Veggies aren't going to waste in the fridge...Thank you for what you have done!

6 of 180
I just wanted to say thank you again! I use this site everyday, as well as on my iPhone, and it has LITERALLY made my life better. Thanks again!!!

7 of 180
love, love, love this site. I'm sure I've saved more than my yearly subscription by not wasting food. My husband loves this site too - because he's eating better. LOL. Keep up the fabulous work!

8 of 180
Plan to Eat is a small business –
Just Our Family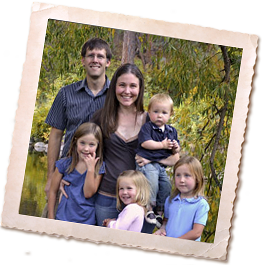 Lisa is the visionary for Plan to Eat. It was through her frustration with the redundancy of planning meals that Plan to Eat was born.
Clint is the creator and maintainer of Plan to Eat. He is part designer, part programmer, and all around problem solver.
We are both passionate about homeschooling, raising our 4 kids, and eating real food cooked at home while helping others do the same.
We are not a startup.
We are not trying to grow as fast as possible (by making our service free) so we can sell our customer base and move on to the next project.
We don't like ads.
Especially in the context of a web application like Plan to Eat.
We have intentionally chosen not to seek investors or borrow money
This gives us the freedom to focus on what is best for our customers and our own family.
We try to be very clear & up front about the cost of a Plan to Eat Subscription.
It's $4.95/month or $39/year. We do not ask for credit card information before starting a 30 day trial. We do not want to "trick" you into paying us because you forgot to cancel. We offer a no-questions-asked refund policy. By default, we do not automatically bill you when your yearly subscription expires.
If your subscription expires...
We do not remove your account but instead suspend it so you can renew at any point.
We do not hold your recipes & information hostage.
You can always export all of your recipes, even after your subscription has expired.
We believe these ideas are just common sense.
They reflect our commitment to treating our customers the way we want to be treated.