We believe our physical and emotional health is directly tied to what we eat. Plan to Eat was born from our desire to eat real food — great food — prepared at home, together as a family. Our hope is that Plan to Eat will be a tool to help you prepare delicious, wholesome food that nourishes both body and soul.
This is my favorite thing these days! Great for busy families that "don't have time to cook" and the best part is it makes the shopping list for you! A year subscription paid for itself in the first week when it kept us from eating out for a night. What a great idea.

72 of 180
I have changed my family's diet from the standard American diet to a plant-based diet, and the meal planning has been the most discouraging part because I have been buying too much of some things and not enough of another because I don't have the time to plan well. It is so time consuming to figure out how much of what I need from all of these new recipes combined. I am so excited (about Plan to Eat) because now I know I will succeed at feeding my family well without having to trade off spending precious time with them. Thank you!!

73 of 180
Love it, so far!!!! Thank you so much for making it so easy to input and plan meals. This is what I have been looking for.

74 of 180
Love, love, LOVE your site! Not only are we cooking more and eating out less, we are actually staying at or UNDER our grocery budget EVERY week! Thank you!! I've used those other menu plan sites, the ones that give you a menu and grocery list and, while they were helpful, nothing compares to Plan to Eat! I love that I can put in all the recipes that my family already loves, I can plan my menu based on what I already have on hand and I can add recipes SO easily!!

75 of 180
Plan to Eat is an AMAZING online meal planning service that we have used for 2 years and just signed up for a 3rd. You can access your friends' recipes for more options.....and meal planning, with a complete shopping list, is a "drag, drop, print" process. This has literally saved me hundreds of dollars by avoiding restaurants and using all the groceries I purchase.

76 of 180
Plan to Eat is a small business –
Just Our Family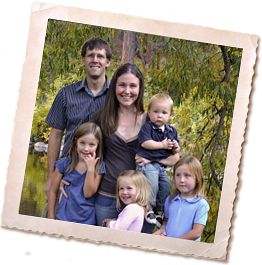 Lisa is the visionary for Plan to Eat. It was through her frustration with the redundancy of planning meals that Plan to Eat was born.
Clint is the creator and maintainer of Plan to Eat. He is part designer, part programmer, and all around problem solver.
We are both passionate about homeschooling, raising our 4 kids, and eating real food cooked at home while helping others do the same.
We are not a startup.
We are not trying to grow as fast as possible (by making our service free) so we can sell our customer base and move on to the next project.
We don't like ads.
Especially in the context of a web application like Plan to Eat.
We have intentionally chosen not to seek investors or borrow money
This gives us the freedom to focus on what is best for our customers and our own family.
We try to be very clear & up front about the cost of a Plan to Eat Subscription.
It's $4.95/month or $39/year. We do not ask for credit card information before starting a 30 day trial. We do not want to "trick" you into paying us because you forgot to cancel. We offer a no-questions-asked refund policy. By default, we do not automatically bill you when your yearly subscription expires.
If your subscription expires...
We do not remove your account but instead suspend it so you can renew at any point.
We do not hold your recipes & information hostage.
You can always export all of your recipes, even after your subscription has expired.
We believe these ideas are just common sense.
They reflect our commitment to treating our customers the way we want to be treated.